The History of Canadian Wiggler
Walter Lindquist Sr. was born in Helsinki Finland March 22, 1897. He emigrated to Canada with his wife Lempi and young son Walter Lindquist Jr., landing in Halifax Nova Scotia February 22, 1924.
After brief stays in Toronto and Huntsville Ontario, the family moved to Windsor Ontario, where he found employment at Ford Motor Co. An incurable tinkerer, and avid fisherman, Walter spent many hours on Lake St. Clair and in his basement workshop, with a dream to produce a fishing lure worthy for a country like Canada to be used in it's lakes and waters with pride and success.
In 1945 after many long incalculable hours spent in his workshop and testing in Lake St. Clair, Walter felt that he had perfected the design of his dream. It was a Hollow Constructed fishing lure, 3 1/4″ in length, 1/2 oz. in weight, originally made from aluminum early on then to a brass construction. His invention was born, which was proudly named Canadian Wiggler. Sales commenced in the early 1940's and incorporated in 1949, soon thereafter "Canadian Wiggler" became a household word with every fisherman, every retailer and every distributor, gaining World recognition.
Today, the world renowned "Canadian Wiggler" continues strong – From a Dream – To a Proud Canadian Legend – "Canadian Wiggler" – The Lure that Endures and Withstands the Test of Time.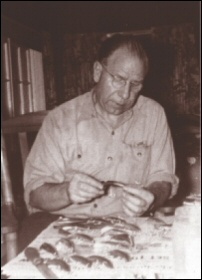 Click below to view full images.